Great Options For Your Danville Patio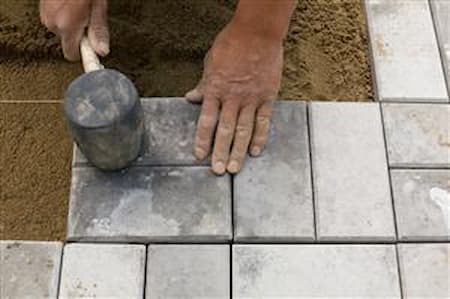 Building or revitalizing your a patio can be both exciting and challenging at the same time. That's why one of the first steps in planning a new patio in Danville is selecting what type of material you'll use as a base. This step is critical as it sets the stage for every other decision you'll make. The surface you choose plays a huge role in creating the style of your patio and your overall investment. It will also establish long term care and maintenance. So explore all options available to you and go with what matches your personal taste and style. Brick, concrete, stone, or gravel are the most popular choices among homeowners in Danville.
Solid Concrete
Whether poured as one large unit or pieced together from pre-cut shapes, a concrete patio is available in both smooth and textured surfaces with intricate designs and different earthy shades. With concrete you can add to your existing patio or create an entirely new foundation all together. Paver patios are generally created from concrete. With Paver you get a world of options available for designs and patterns. Concrete is easy to clean, easy to maintain, and, with treatment and care, lasts an incredibly long time.
Veneer
Solid Veneer is generally cut into a ¼-inch-thick layer that's been colored and stamped to imitate bluestone or other types of stone in order to give your home a natural stone look. Veneer is assembled using hidden joints which gives it a seamless finish. It's solid construction make it grit-proof and impervious to moisture, plants, and pests such as ants. It holds up really well in extreme temperatures, particularly temperatures below freezing. It can be installed directly over your current patio surface which cuts down on labor and excavation costs.
Gravel
Of all the types of patios bases, gravel is the most cost-effective and easiest to implement. It requires very little preparation and can be laid into any surface quickly. It's also easy to maintain and replace. When you need more, simply add more as you go. It's perfect for informal settings and can fit any groove or design in your current landscape or pool. Gravel comes in a wide selection of colors, including white, black, and earthy yellows, browns, and reds. A form of gravel known as pea gravel also comes in white and tan in order to give you a brighter look.
A Word About Design & Planning
Before you launch your patio project, it's important to get a good idea about how a certain type of patio material is actually going to look once you get it installed. With a professional design company such as J. Dicus Landscape & Pool Construction you have the benefit of working with a professional Danville landscape design consultant right by your side through every step. This way you can confirm that the ideas in your head will actually look good on paper. We can show you how the options will completely transform your lawn and pool area. Contact us today and let us help you design the patio for your home.
If you are looking for residential patio design and construction services in Danville and the surrounding areas, then please call 925-552-1116 or complete our online request form.