Blackhawk Landscape Design And Pool Construction Services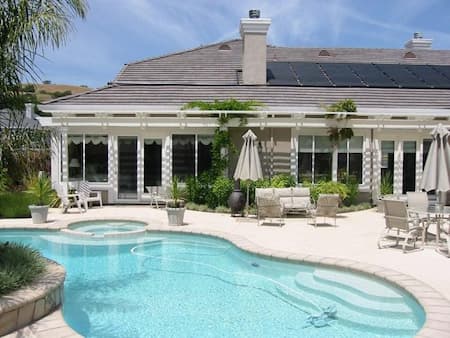 For the last two decades, Blackhawk residents have turned to J. Dicus Landscape & Pool Construction for all their major backyard improvement projects. During this time frame, we have been honored by the trust that our customers have shown in us. In every project we undertake, our Blackhawk pool construction contractors seek to honor that trust by providing the highest quality and most customized services possible.
Call J. Dicus Landscape & Pool Construction today if you are interested in making a major improvement to your Blackhawk home. Our polite and knowledgeable staff would be happy to assist you in any way that we can. Our expert landscape designers would be excited to discuss your prospective project with you and to inform you as to how we can achieve all of your goals. We would be happy to schedule your appointment today.
Pool Design And Construction Services In Blackhawk
If you have been considering installing a new pool on your Blackhawk property, you should call our professionals today. Our pool design and construction contractors have the knowledge, skill, and experience necessary to help you make the most of this project. When you hire us to assist you with your pool construction efforts, we will assist you at every step of the way.
Because of our design capability, there is no end to the options that are available to you. Our pool construction contractors understand that you have a vision of what you want your backyard to look like. With our expert assistance, that vision is guaranteed to become a reality.
Patio Covers And Patio Construction In Blackhawk
At J. Dicus Landscape & Pool Construction, our Blackhawk patio design contractors believe that every local family deserves to enjoy every portion of their property. If you believe that your family is not making the most of your backyard, you should consider constructing a patio. Patios in Blackhawk provide you with the perfect place to gather after a long day at work and school. It is also highly optimal for any entertaining that you will do at your home.
Our patio contractors will inspect your residence's layout and inquire as to your unique goals in order to help you design the most customized patio possible. We have the skill to work with all different materials including brick, stone, concrete, and pavers. We can construct pergolas, arbors, fire pits, and pavilions for you. In the end, we guarantee that you will be satisfied with the results.
Recent Projects in Blackhawk, CA
If you are looking for professional landscaping and pool construction services in Blackhawk, then please call 925-260-5838 or complete our online request form.