Camino Tassajara Landscapers And Pool Construction Contractors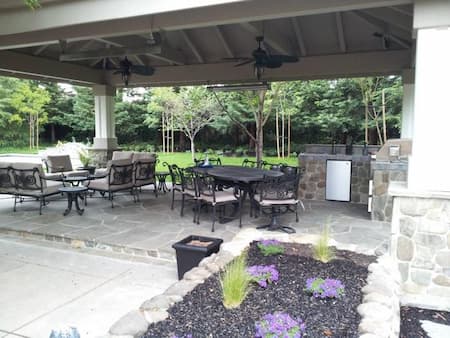 If the backyard of your home is relatively unimproved, you and your family have a great opportunity to vastly transform this area for the better. At J. Dicus Landscape & Pool Construction, our Camino Tassajara landscape designers can help you make the most of this opportunity. We have been designing and constructing pools and patios for local families for the last two decades. We would be proud to bring our tradition of excellence to you during your project.
Call J. Dicus Landscape & Pool Construction today if you are interested in improving the exterior of your Camino Tassajara home. Our courteous staff would be happy to help you in any way that we can. Set up your appointment with our professional landscape designers today.
Custom Patios And Patio Covers In Camino Tassajara
If you are looking for ways to increase your family's enjoyment of your home while adding substantial value to your Camino Tassajara property, you should consider constructing a custom patio. At J. Dicus Landscape & Pool Construction, our patio design experts can help you with every aspect of this project.
When you hire our team, there is no limit to what you can achieve. Not only can we build a beautiful patio for you out of practically any material, but we can also customize it in a variety of fantastic ways. If you are interested in a covered patio, we can construct a pergola, pavilion, or arbor for you. If you want to make the ultimate area for entertaining, we can install a fire pit, grill, or even an entire outdoor kitchen for you. The one guarantee that we can make is that you and your family will love the results of our services for years to come.
Camino Tassajara Spa And Pool Construction Services
In addition to our custom landscape design services, we also specialize in pool and spa installation services. Having a pool or spa on your Camino Tassajara property is an amazing luxury. You and your family are guaranteed to enjoy the times that you share around these areas.
Our professional swimming pool contractors can help you design and construct a pool or spa specifically for your family's tastes and needs. We will inspect the layout of your home and inquire as to your unique goals in order to customize our pool construction services to you in the best way possible. We understand that you have a vision of what you want your pool and spa to look like. With our help, that vision will become a reality.
If you are looking for professional landscaping and pool construction services in Camino Tassajara, then please call 925-260-5838 or complete our online request form.