Landscape Design And Pool Construction Services In Concord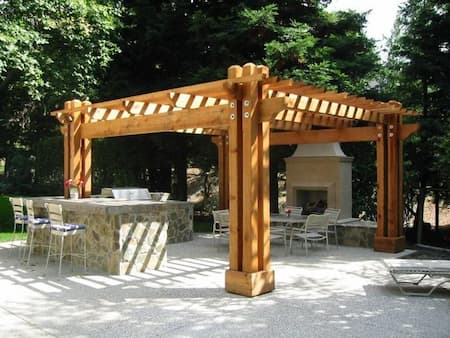 At J. Dicus Landscape & Pool Construction, our team believes that every family deserves to enjoy the entirety of their property to the utmost. Our Concord landscape design and pool construction contractors have been providing the most customized and highest quality services to local residents for the last two decades. We can help you design and construct a patio, pool, or other landscaping feature specifically for your family.
Call J. Dicus Landscape & Pool Construction today if you want to make a vast improvement to your family's enjoyment of your Concord home. Our courteous and polite staff would be excited to discuss your prospective patio or pool project with you. With the help of our professional landscape designers, your backyard will be an inviting place that your family will love to use well into the future. We can schedule your appointment today.
Custom Patio And Patio Covering Design Services In Concord
If you want to make better use of your backyard, you should consider constructing a patio. A custom designed patio is the perfect place to entertain friends and guests. Also, a patio will provide your family with a place from which you and your family can enjoy the entirety of your property.
At J. Dicus Landscape & Pool Construction, our patio design contractors can help you make the most of this effort. We can build your patio feature out of a wide variety of hardscaping materials including pavers, bricks, concrete, and stones. In addition, we can construct a pavilion, pergola, or arbor to cover your new patio. When you hire our professionals, there is no limit to the design possibilities. The one constant in all of our work is our goal to achieve the highest levels of customer satisfaction.
Outdoor Grills And Fireplaces In Concord
If you and your family enjoy using your outdoor living spaces, you should consider constructing an outdoor grill or fireplace for your Concord home. An outdoor fireplace or fire pit can be the centerpiece of your backyard, allowing you and your family to use this area at anytime during the evening. These wonderful additions to your home will add substantial utility and value to your property.
Our landscaping contractors will design and construct the outdoor grill, fireplace, fire pit, or kitchen that will work best for you and your family. You will love the moments that you share in your backyard, and the enjoyment will last well into the future.
If you are looking for professional landscaping and pool construction services in Concord, then please call 925-260-5838 or complete our online request form.